Many people claim that miracles don't happen any more. Some claim that they not only do happen but that they happen much more often than we realize. I am in the latter category. I am convinced that our loving Heavenly Father provides us with promptings through the whisperings of the Holy Ghost and these can bring about miracles if we just listen to them and act upon them.
Two examples from just this morning:
- Thinking about getting all of our scouts' equipment was a big stress on my mind and a topic of conversation much of last evening. My wife felt impressed to make some phone calls early this morning to see if I could go back to the camp to collect belongings. Within an hour I was on the road with my son, having gotten
permission
to go to the camp and gather our belongings. When we arrived at the camp, we found out that
we had literally a one hour window during which we could pack up camp.
Had my wife waited to call we would NOT have been able to get everything for ourselves and the rest of our camp.
- Just before our mad rush to get to the camp, the thought crossed my mind
"take that extra seat out of the back of the big van before you go."
There was no reason to do so as our camp's equipment would have already fit in the rest of the van (2 rows of seats were already removed) ... but I listened to the prompting. We took 3 minutes to pull out the seat and were on our way.
AFTER
packing up our campsite, one of the camp directors asked if we had any "extra room" to collect items from another campsite.
Because the seat had been removed, we did have room
, so we proceeded to assist with the loaded of half of another campsite's personal items.
I am sure if you think about it for a few minutes, you'll quickly become aware of a recent time when you felt
impressed
or
prompted
to say or do something that may have seemed out of the ordinary at that moment. If you listened in that time, then you probably also have a memory of a positive outcome to that story. Kudos to you for listening to the spirit.
You've just allowed God to work a miracle (however small it may have been) through you.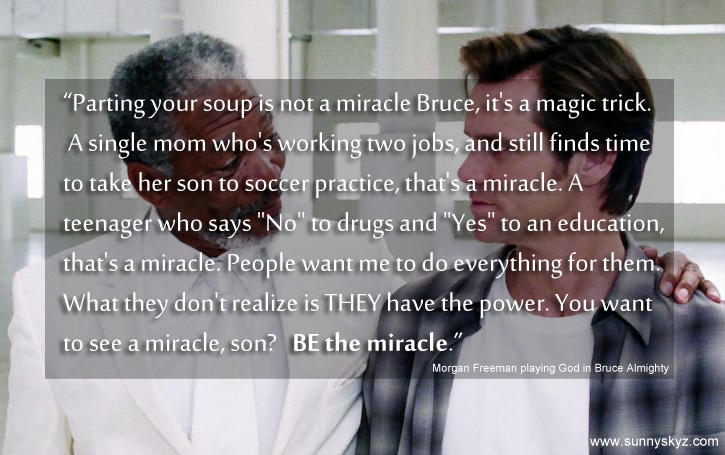 Song Of The Day:
I am using
"The Quickest Road"
by The Duke's Men Of Yale as the song from this post. How does this relate? The
quickest road
to a miracle is a straight line between you and the spirit. Also, the drive to (and home from) Camp Dobbins was much better today because we didn't have to go out to I-25.
And for me, that was another nice little miracle! :)
...