I did not make it to work today.
Thursdays are my "short" day (I work four 9-hour days and one 4-hour day each week. The 4-hour day is Thursday) each week. This means I am usually at work on those days from about 8 - 8:30am until Noon - 12:30pm. So when the news came in that my office wasn't opening until 10:00am, I decided that it was definitely not worth the 20-minute drive each way to be at work for just 2 hours today.
I think my wife was very glad I made that decision.
You see, we have seven (7) children, five (5) of which are in school during the weekdays.
Except
when there is a
Snow Day!
My wife is pretty amazing, but being fair you must realize the
burden
* that seven children under one roof on a school day that has become a non-school day quickly become. Kids, like adults, need their routine. Sure it sounds cool to have a "free day" but this quickly disappears into
"What do I do now?!"
kinds of questions.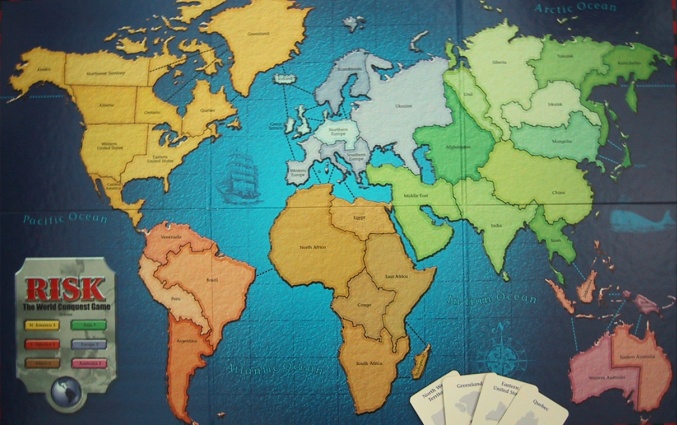 So my contribution to the household today was entertaining our oldest two boys (ages 13 and 11) with a
Risk board game marathon
! After a few reminders of the actual rules and some courtesy rules (remember their ages and think about how you acted sometimes during games at that stage of your life), we spent well over 5 hours playing a total of 3 games of Risk. There were a few breaks in between for lunch and to shovel the front sidewalks and driveway, but
we had an absolute blast playing together!
The four (4) girls spent a little while playing out back in the snow, but that didn't last too long because it was windy and cold But our oldest daughter (Brooklyn, age 9) did reasonably well taking care of her younger sisters (including showers for all of them just before dinner time).
The evening ended with "pizza and movie night" for the kids down in the movie room, while Karen and I took our newborn (Spencer, still not 3 months old yet) with us out to eat at Texas Roadhouse**.
It was a pretty great snow day at The Case Place. :)
Song Of The Day:
On the theme of "global domination" as related to the Risk board game map, the song for today is an a capella version (of course!) of one of my favorite songs from my high school days.
"Worlds Apart"
was originally performed by Jude Cole (one hit-wonder?) but this is the version by Straight No Chaser, which I actually like better than the original. I hope you like it!
*Please understand that I do not think of any children as any sort of "burden." I simply mean that keeping that many children happy for a long period of time when their "routine" has been thrown out the window is not easy.
**Yes, you read that right. I have actually gone back to Texas Roadhouse. It had been two years and I heard the manager had been replaced. We've been back three times since and the service has been significantly improved ... dare I say, very good !!!
...